The one Winter Olympic gold Canada cannot lose: men's ice hockey
The Winter Olympic sport that Canada cares about most – men's ice hockey – began today with Canada defeating Norway, 8-0. The nation is desperate for its men's team to win gold on home ice after many years of disappointment.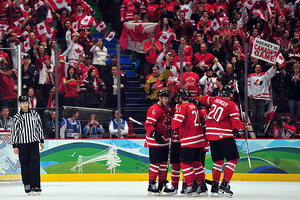 Newscom
Vancouver, British Columbia
There have been some strange rumors swirling around Canada Hockey Place in Vancouver. Word is that some peculiar winter carnival is passing through town, in which people have been known to skate on ice without hockey sticks and race across the snow even when no bear was chasing them.
Thankfully, men's hockey arrived today to put an end any of that funny business.
Yes, Vancouver is holding an Olympic Games, but to many Canadians, cross-country and alpine skiing and snowboarding are just the appetizer for the main course – men's hockey – which began Tuesday at Canada Hockey Place.
Canada's plan to "Own the Podium" is popular enough, and moguls skier Alexandre Bilodeau winning Canada's first-ever gold on home soil Sunday was a true moment of national pride. But at Canada's core, where feel-good stories dissolve, leaving only matters of the heart, the sole gold that Canada cares about deeply is men's hockey.
"We're all sports fans," says Markus Bill, who came to Canada Hockey Place to see Canada's first match, against Norway. "But this is our passion."
---