Weathering the Olympics: how science and sport meet on the bottom of a ski
Rain and slush are testing Olympic skiers as well as their technical gurus, whose choices of skis and wax can help make the difference between gold and anonymity.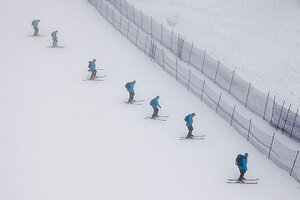 Mike Segar/Reuters
Whistler, British Columbia
With unseasonably warm weather drenching Whistler in rain and slush, the men's super combined race on Tuesday became the third of three scheduled alpine skiing events to be postponed due to poor conditions.
But while Olympians here can't count on their races being held as planned, one thing they can be sure of is that the X factor of their sport – the detailed science behind how skis and snowboards run fast on snow – just got a lot bigger.
Many of the athletes here have trained a decade or more. But their shot at an Olympic medal could be determined by a fraction of a second. And those fractions can be won or lost depending on something most spectators never see: the base of an athlete's skis or snowboard.
That is because the thing we casually refer to as snow is transformed by variables such as humidity, temperature, and density that significantly affect what will run fastest in a given condition. Warm, wet conditions have characterized nearly every day of competition so far at the Games.
"The more extreme the conditions, the more important it is what we do," says Knut Nystad, who leads Norway's team of 22 wax technicians and ski testers – just for cross-country. "The equipment makes a huge difference. You can spend 10,000 hours training, but what we do can give you that extra 10 or 20 seconds. This is what makes the difference between the second-best and the best athletes."
450 pairs of skis for 12 athletes
---