Lindsey Vonn: stunning downhill gold shakes skiing world
Lindsey Vonn wins gold in the women's downhill, and though she (wisely) refuses to buy into the hype around her in these Winter Olympics, she's well poised to make a mark on history.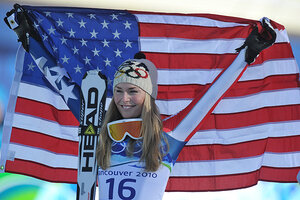 Newscom
Vancouver, British Columbia
Today was about Lindsey Vonn, winning the Olympic gold she coveted most.
But from here forward, Lindsey Vonn's Winter Olympics are about history.
Vonn did not merely win the women's Olympic downhill Wednesday, she laid down a run that shook the very roots of Whistler Mountain.
It was the sort of run upon which a mythology is built, and if she can duplicate it several more times at these Olympic Games, she will at least begin to enter the conversation about the greatest women skiers of all time.
"It showed just how dominant Lindsey Vonn is on the women's side," says Steven Threndyle, who has covered the World Cup circuit for Canadian publications.
At the moment, he says, "She is like the Wayne Gretzky of skiing."
She is not the Michael Phelps of skiing, however.
After her first gold of these Games – with four more events to come – she wanted no part of the media speculation: Can she do what no woman has ever done and win five alpine medals in one Olympics?
"I don't care" what the future holds, she said after the race. "I got what I came here to do, I got a gold medal."
Vonn not buying the hype
The use of the singular was notable – and wise. Skiing is not swimming. Changing conditions in the middle of a race can determine a winner more surely than talent.
---