Petra Majdic gives Slovenia its first-ever cross-country medal
Cross-country star Petra Majdic was cheered on by athletes and coaches from many nations as she rallied back from a bad fall and took bronze.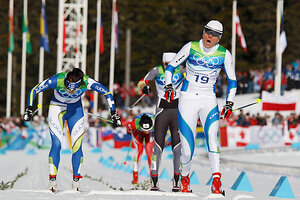 Michael Dalder/Reuters
Whistler Olympic Park, British Columbia
Petra Majdic's Olympic dreams flew off a cliff this morning and landed with a hard thump.
"My first thought was that our Olympic Games are over," says Ivan Hubac, her coach for the past four years, who saw the Slovenian cross-country star skid off an icy corner of today's sprint course just moments before the race began.
But then with a faith as solid as that of "The Little Prince" – a favorite book of hers – she rallied back, gaining strength with each heat to win Slovenia's first-ever medal in the sport.
"What happened today was a miracle," says Hubac.
History will note that Majdic's medal was bronze. But for the athletes and coaches from any number of countries who rose above national boundaries to urge her on and celebrate her victory, it was more.
"I think this is a gold for Petra," said winner Marit Björgen of Norway. "She's very hurt and she took bronze, so good for her. She is a strong woman."
Majdic, who has not taken a vacation in three years in order to be 100 percent prepared for these Games, went even further.
"This is not only gold," she said. "It is gold with little diamonds in it."
A fall into a gulley
---