Judging Olympic figure skating: More numbers than art?
As men skate for Olympic gold tonight, they're being judged by a system that emphasizes athleticism over artistic impression. Johnny Weir, for one, says it has squeezed out emotion and artistry.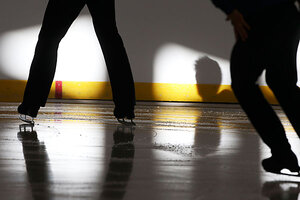 Mark Baker/AP
Vancouver, British Columbia
While the rest of the world debates whether Yevgeny Plushenko of Russia, Japan's Daisuke Takahashi, or US skater Evan Lysacek – all in a near tie after Tuesday's short program – has the best shot of winning Olympic skating gold tonight, there's one thing the American knows for sure.
Under the new judging system, favoritism won't play a part in determining the winner.
"If you're the favorite and you don't skate well, you're not going to win," said Lysacek, the 2010 US silver medalist, before the Games began. "That [is one thing that] has completely changed. Has the best skater won every time? Yes."
The new system, which has continually been refined since its introduction in 2005, emphasizes the athleticism of figure skating over artistic impressions – Johnny Weir's pink ribbons notwithstanding. While superior artistry may be the tie-breaker between two skaters with comparable technical elements, it won't compensate for a lack of difficulty in the routine.
Overall, both quad-jumpers like Pluschenko and artists like fifth-ranked Stéphane Lambiel of Switzerland seem pleased with the new system, which they say binds judges to criteria – closing the door on ambiguous "impressions" that leave room for too much subjectivity and even corruption, as at the 2002 Salt Lake City Games.
---