Bode Miller and Weibrecht snag two medals for USA in Olympic super-G
Bode Miller and Andrew Weibrecht had a 2-3 finish for USA skiing in the Olympic super-G. Edging them out was Aksel Lund Svindal of Norway.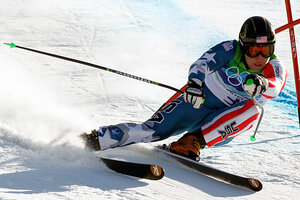 Alessandro Trovati/AP
Whistler, British Columbia
Under brilliant skies, Bode Miller and Andrew Weibrecht skied to a 2-3 finish for US Skiing at Whistler Creekside. Topped only by Aksel Lund Svindal of Norway, the future of US skiing shone almost as brightly as the sun that finally came out during the race.
Miller, who has transformed a lifetime of reckless careening into masterful dominance, sent his skis chattering down a challenging super-G course that claimed more than a few racers – including Canadian favorite Manuel Osborne-Paradis. He soared around the blue and red gates, sending little ice balls fleeing for safety.
Known for trimming fat off the serpentine arcs of his competitors, today Miller was beat at his own game by Svindal, much to the delight of a crowd eager for tight competition. Using superimposed video imagery, TV screens at the venue showed Svindal cutting a tighter line than Miller – enabling him to edge the three-time Olympic medalist by 0.28 seconds.
---