The teams behind every Olympic athlete: parents, friends, fans
Athletes at the Vancouver Olympics have usually gotten there with the backing of a small army of supporters who encourage, chastise, bolster, and fund. Just ask US skeleton's Noelle Pikus-Pace or US luger Mark Grimmette.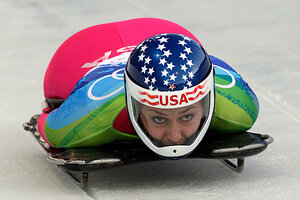 Michael Sohn/AP
Whistler, British Columbia
When Elana Meyers – one of the fastest starters in the US – explodes off the starting line at next week's Olympic bobsledding competition here in Whistler, she'll be gunning for gold.
But thanks to a friend from grade school, she sees humility as even more important than winning.
"In school, we were always competing for the top grades," says Meyers, recalling the time she waved her higher test score in Katrina Howell's face. "She scolded me and I thought, oh, well, maybe I need to recheck my attitude.
"She helped me realize that even though I'm a competitive person, everything doesn't need to be competitive and there are things more important than winning."
Behind every Olympian is an army of people whose help – whether in encouragement, chastisement, parenting, coaching, funding, or friendship – has shaped their character and provided stepping-stones to Olympic success. When athletes reach that ultimate goal, they in turn profoundly influence the lives of those who have helped them – making the Olympics the celebration not of an elite few, but of a pyramid of support.
---