Women's super-G: Austria revels in gold as Vonn takes bronze
At the women's super-G, Austria's Andrea Fischbacher bested favorite Lindsey Vonn and raised her ski-crazy nation's spirits with gold. Vonn said she 'stopped charging' after an initially dominant run.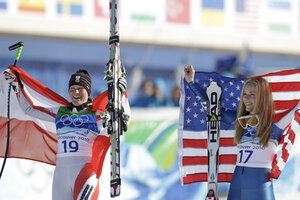 Sergey Ponomarev/AP
Whistler, British Columbia
Andrea Fischbacher of Austria put down a flaming run to win the Olympic super-G today, reviving the lagging spirits of a nation that watches skiing the way Americans watch the Super Bowl.
Besting a gutsy run by Tina Maze of Slovenia and a strong performance by gold-medal favorite Lindsey Vonn, Fischbacher doused the flames of fury back home generated by disappointing performances from the men's squad.
With 14 medals at the 2006 Games, Austria came into these Olympics as a heavy favorite – albeit one strongly rivaled by a resurgent Swiss team. But it has been US skiers who have matched the brilliance of the sun here, winning roughly half the medals so far. And that made a country whose pride rides on its racers' skis very upset.
"There is so much pressure in Austria. Nobody cared when the men's luge doubles won the country's first gold," says Tino Teller, an Austrian journalist covering alpine skiing here. "Everybody back home was asking, 'When will be the first gold in alpine? The whole nation was sitting in front of the TV at 5, 6, 7 p.m., waiting."
Fischbacher knew that when she stepped into the gate today.
---