Super Sunday: US vs. Canada tops day of hockey grudge matches
The men's hockey competition kicks into high gear on Super Sunday – a day that will see replays of the past three Winter Olympic gold medal finals, including a US vs. Canada game.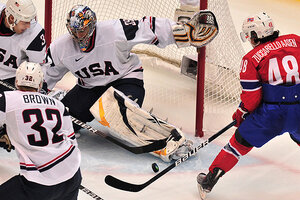 Newscom
Vancouver, British Columbia
Earlier this month, the United States had its Super Sunday in Miami.
Today, Canada will hold its own Olympic-size version.
Canada is crazy about hockey, and Sunday it will get a triple helping. The men's gold medal matchups from the past three Olympics will all repeat themselves in Canada Hockey Place, with seedings for the knockout round ahead on the line.
Topping the card: the United States vs. Canada – a replay of the gold-medal game from 2002, when Canada won, snapping its 50-year gold-medal drought in the Olympics.
In Vancouver, the stakes are almost as high, with Canada seeking the one gold that the host nation covets above all others in these Winter Games.
In addition, this could be the last Olympics with National Hockey League stars, as owners intimate that they're leaning against shutting down the league again for the 2014 Sochi Games in Russia.
It all sets the stage for what could be, in the worlds of one US hockey official, "the greatest hockey tournament in the history of the world" to begin in earnest.
---