Why gold slipped away from Lindsey Vonn and Shani Davis
Americans Lindsey Vonn and Shani Davis – and even Apolo Ohno – were favorites for gold Saturday. Their opponents put in fantastic performances, but there were other factors, too.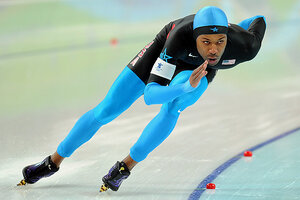 Newscom
Vancouver, British Columbia
The lesson of the Winter Olympics, Day 9: There are no such things as gold-medal favorites.
Saturday dawned with Americans virtually certain of two things: Lindsey Vonn would win gold in the super-G and an American speedskater would win gold in the 1,500 meters.
And maybe, just maybe, Apolo Anton Ohno would win his race, too.
Three days after the US won three golds in one day, it was ready to repeat the feat.
Only one thing got in the way: the Winter Olympics.
Unlike its summer cousin, the volatile Winter Olympics do not look too kindly on predictions. The Summer Games, after all, are rather predictable.
No competitor in the 100 meter freestyle is suddenly going to swim into another lane, cutting off a competitor right as he's accelerating for the pass. No one is going to change the course of the 400 meter hurdles overnight, adding a blind bank turn through the long-jump pit. And no one is going to give a high jumper a boost.
Yet, in a way, all those things befell American gold-medal favorites Sunday, turning potential gold into silver and bronze.
To many Americans, skill and determination are the only factors that decide who wins a race – everything else sounds like an excuse. But in the Winter Olympics many variables go into deciding who wins, and those variables are completely out of an athlete's control.
---