For many Vancouver Olympics athletes, sports psychology is key
Think what you will, but many Vancouver Olympics athletes now rely heavily on sports psychologists to help them focus and perform at their best.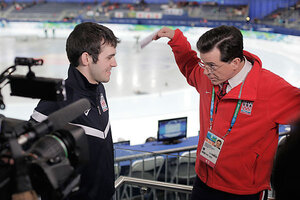 Peter Dejong/AP
Whistler, British Columbia
German biathlete Magdalena Neuner came into the Vancouver Olympics with six world championship titles in her pocket – but a history of wildly inconsistent shooting that has also left her with some poor results.
So when the young stand-out won her first of three medals so far at these Olympics – including two of Germany's six gold medals – she had a simple answer for how she had become so much more consistent this year.
"I worked very hard, especially in the mental training," she said, a concept she elaborated on later. "One has to understand that physical fitness alone isn't sufficient. My mental training is very complex and it makes me believe in myself…. To control your mind is more difficult than to control your body."
As individual athletes increasingly come into the Olympic Games with huge expectations on their shoulders – not just for veterans, but for rising stars who have been hyped at home by eager advertisers and Olympic committees looking to cash in on sponsorships – sports psychology has become more mainstream than ever. Athletes from Neuner to Canadian gold medalist Alex Bilodeau to luge athlete and five-time Olympian Mark Grimmette have all talked about the mental techniques they use to achieve top success when it matters most.
---