Carlo Janka stakes claim as next ski star with giant slalom gold
Swiss skier Carlo Janka confirmed a career in ascent with giant slalom gold Tuesday, and pushed the arch-rival Austrians off the podium to boot. For the first time at the Vancouver Olympics, the US failed to medal in an alpine event.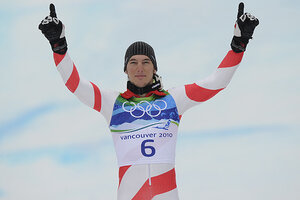 Newscom
Vancouver, British Columbia
This morning before the men's giant slalom, Carlo Janka might have felt a bit like an Austrian. The young Swiss alpine skier, of whom so much had been expected in the Olympics, had delivered no medals in the first three races – kind of like the Austrian men.
On Tuesday in the giant slalom, one of those streaks ended and the other – incredibly – remained intact.
Janka took gold, and as an added bonus, his finish pushed the arch-rival Austrians off the podium entirely, leaving the men's team still oh-for-Vancouver.
Norwegians Kjetil Jansrud and Aksel Lund Svindal took silver and bronze. Svindal, like American Bode Miller, now has one medal of each color at the Vancouver Games, after winning gold in the super-G and silver in the downhill.
Miller did not finish Tuesday. He made early mistakes in his first run of the giant slalom and skied out of the course trying to make up time. America's other medal hopeful, Ted Ligety, finished ninth, 1.28 seconds back of Janka – ending the US streak of medaling in every alpine event at the Vancouver Olympics.
(How did American alpine skiers rock the Olympics up to this point? We wrote about that here.)
---