Olympic figure skater Kim Yuna: Koreans revel in her dazzling lead
Korean Olympic figure skater Kim Yuna thrilled her countrymen as she took a commanding lead in the Olympic short program, beating out Japan's Mao Asada.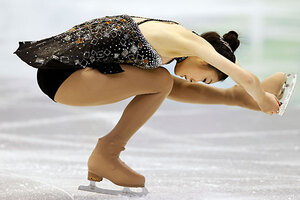 Lucy Nicholson/Reuters
Tears welled up in Chang Sung-eun's eyes as her office TV screen flashed the news: Olympic figure skater Kim Yuna had just set a scoring record of 78.50 in the short program at Vancouver's Pacific Coliseum.
Beside her, two young women wept openly and several young men burst into loud applause, shouting, "Excellent, excellent, great great."
For Koreans, it was a moment of total national pride, of success not only for Ms. Kim but for a nation that likes nothing better than to revel in triumph, especially when the victory is over Japan. In this case, Kim edged out arch-rival Mao Asada, the Japanese sensation who came in second, 4.72 points behind her.
"It's so very emotional," says Ms. Chang, trying to sort through the wave of sensations that overcame her and her colleagues as Kim's name was announced and she took to the ice to begin her stunning performance. "It's a patriotic thing. It was such a beautiful sight to see."
In early afternoon, Seoul stopped
The scene in Chang's office was much the same everywhere, in school cafeterias, bars, and restaurant, hotel lobbies and railroad waiting rooms. Many workers hurried back from lunch, breaking off business conversations, wanting to be sure to catch Kim Yuna.
With every seemingly effortless leap, twist, and turn, Kim inspired excited oohs and ahs as viewers shouted cheers and encouragement from 8,000 miles away, waiting anxiously to see if she might falter or, heaven forbid, fall.
---