Vancouver 2010: medal count as of Monday, March 1
Follow the latest Vancouver 2010 medal count results.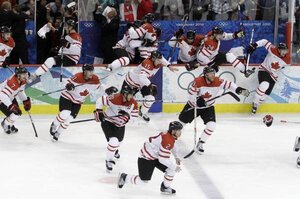 Julie Jacobson/AP
Last update: Monday, March. 1, 9:00am ET
Overall Medal Count:
United States: 37
Germany: 30
Canada: 26
Norway: 23
Austria: 16
If the Canadians were to win only one Olympic gold medal at the Vancouver Games, this would have been it.

In the final event of the XXI Winter Games, the Canadian men's hockey team defeated the USA 3-2 in overtime. For full details of the epic match, click here.

Also medaling on Sunday was Petter Northug Jr. of Norway. The Norwegian, who is largely considered to be the best cross-country skier in the world, raced to gold in the men's 50-kilometer mass start event.

The United States topped the overall medal count with 37, making the Vancouver Games the States' most successful yet. Germany followed closely behind with 30 while Canada settled happily in third with 26 medals. Team Canada's 14 gold medals, however, topped America's 9 and Germany's 10.
Here's the medal list for gold, silver, and bronze in each event as of today. We'll update each morning.
---