Nordic combined: Bill Demong gets a medal to match his heart of gold
Bill Demong, who had a disappointing performance in the first individual Nordic combined competition at the Vancouver Olympics, put on a late surge today to capture America's first gold in the sport.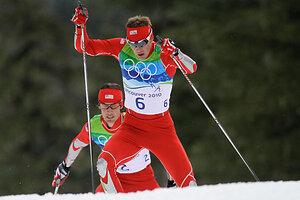 Dmitry Lovetsky/AP
Whistler, British Columbia
Nordic combined skier Bill Demong has shown a heart of gold in these Vancouver Olympics, and now he has a medal to match.
Overcoming a 46-second deficit from a jumping round that took place in horrible weather conditions, he and teammate Johnny Spillane surged ahead of Austria's Bernhard Gruber on the final climb. It was like Porsches pulling away from a Plymouth.
And then, the moment US Nordic combined has been waiting for in the 86 years of Olympic competition: a gold medal.
"I had my best day today mentally," said Demong, echoing many athletes' emphasis here on the importance of mental preparation. "I was in it."
Demong, who finished five seconds ahead of silver medalist Spillane, couldn't be more deserving of the honor. In the first Olympic event, a disappointing jump – caused in part by poor wind conditions, he said later – largely put him out of medal contention. Though he was strong enough to catch up to the leaders in the cross-country portion, the effort sapped his ability to fight for a medal in the final stretch.
But he nevertheless had a wide smile for Spillane, who had just won America's first Olympic medal in the sport – like today, a silver.
"I'm ecstatic right now – I was ecstatic even after the jumping," he said after that first event. "I'm really, really happy that Johnny got silver."
Demong: 'We did the job together'
In the team event on Tuesday, the US won another silver, and Spillane added a third today. But Demong wasn't think about trying to beat out Spillane for the gold, he said afterward.
"I didn't care if he won or was second, I didn't think about it," said Demong, who skied with Spillane for most of the race. "We did the job together. I asked him on the third lap, 'Are you tired?' and he said 'Yes', so I took the lead."
Veteran Todd Lodwick had difficulty in the jumping this morning. A number of top competitors were critical of the way the International Ski Federation handled the event, given that they had to jump in some of the worst weather of the morning.
"It's like a lottery, some guys got good conditions, and other guys got bad conditions," said Jason Lamy Chappius of France, the gold medalist in the other individual event here at the Olympics. " It's clearly not like an Olympic competition, it's a shame."
Lodwick, who was on the silver-medal winning team Tuesday, was unable to make up the 1:13 deficit today and finished 13th.
Bookending the field together with Demong was junior Taylor Fletcher, who finished last in 45th place.
Golden boys: Will the era last?
Standing atop the podium at Whistler Olympic Park, waving their bouquets, Spillane and Demong looked like the golden boys of a unique era in Nordic combined – albeit without Lodwick, who rounds out the three musketeers.
But Demong doesn't want the glory to stop there. He's determined to translate his generation's success into a national tradition like that of Scandinavian powerhouses.
"After this year, I've already set my sights on skiing for another year or two," he said in an interview before the Games. "But what I'm really looking forward to is helping the younger skiers come up."
Just last week, on a mid-Olympic break at the team's training base in Park City, Utah, he was handing out participation awards to more than 200 youngsters in a Nordic competition – part of the new crop he hopes to cultivate.
"One of cool things is that these kids are looking at Nordic sports not only to be on the US Ski Team but to win Olympic medals," he said after Tuesday's team event. "We've been plowing that road for 10 years … now these guys can stand on our shoulders."
"That's a tremendous advantage these guys have over my day, my generation," says head coach Dave Jarrett, who competed in the 1990s.
Last summer, Fletcher beat Demong, Spillane, and Lodwick in time trials, Demong noted.
While today's performance, his Olympic debut, showed that Fletcher is still a rookie when it comes to international competitions, Jarrett notes that it took more than a decade to bring his newly minted Olympic medalists to where they are today
"We've been stepping on top of each other to get to that next level, helping each other up for a long time, and these youngsters already want to kick our butt and they're only 16, 17, 18 years old," says Demong, who has told Jarrett that if he goes to the 2014 Sochi Olympics, he wants to have narrowly beaten the young guys out for a spot. "One of my big focuses is to take the program and sort of the legacy of results we've built in Nordic combined over the last 15 years and make the US a superpower in this sport forever."
---
Follow Stories Like This
Get the Monitor stories you care about delivered to your inbox.