USA, Canada ride new sports to top of Winter Olympics medal count
The USA and Canada have become major players in the Winter Olympics medal count mostly because new sports, such as short track and snowboarding, have been introduced since 1992. A breakdown of which sports have benefited which countries the most.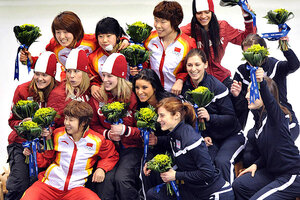 Newscom
Vancouver, British Columbia
Wednesday night was the perfect example of how drastically the Winter Olympics have changed during the past 20 years.
In the three evening medal events, the medalists were from:
Canada, Canada, USA; China, Canada, USA; Australia, China, China.
Not a Germany or a Russia in the bunch.
The reason?
Each of the events contested Wednesday night has been added since 1992, when the International Olympic Committee began its quest to remake the Winter Olympics.
The first and most obvious step in this process was to move the Winter Games to a new four-year cycle, giving them breathing space from their summer cousin. But by far the more transformational step was to begin admitting events that would broaden the Winter Olympics beyond their traditional appeal to people who find lederhosen not at all peculiar.
Among the events added were those contested Wednesday night: women's bobsled, short track speedskating, and freestyle aerials.
---