Korean markets slow as Olympics 'queen' Kim Yuna spins to gold
As Olympics 'golden queen' Kim Yuna won gold for herself and unalloyed joy for Koreans, financial markets slowed and Kim's own webpage crashed from too many viewers.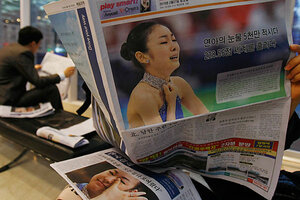 Ahn Young-joon/AP
Financial markets slowed and almost stopped here as Kim Yuna, "the Golden Queen" in Korea's media, was running through a flawless free-skating performance, winning a gold medal for herself and unalloyed joy for Koreans.
"Everybody was in front of office televisions watching her," says businessman Kim Yong-jin. "People came back early from lunch. Nobody was interested in the stock or bond markets. There were almost no transactions, nobody was looking at prices."
Those not looking at TVs were most likely glued to their computers. Daum, a major Internet portal here, reported 440,000 people logged in at the same time to catch her in motion via the Web, according to Yonhap, the South Korean news agency.
That figure was well above the 340,000 who logged in during her short program on Wednesday (Tuesday night in Vancouver). Moreover, said Yonhap, Kim's home page crashed from too many simultaneous hits.
As Ms. Kim twirled madly on Friday afternoon (Thursday night in Vancouver), then came to a sharp stop, a smile on her face, Koreans everywhere burst into what seemed like a nationwide roar of applause.
"We knew she had won," says one office worker, even though Yuna's rival, Japan's Mao Asada, was about to take to the ice.
Sealing gold
---