Why 'Made in China' is gold for US Olympic team
Ralph Lauren's line of clothes for the US Olympic team was made in China, which has some members of Congress furious. It put the US Olympic Committee in a tough spot.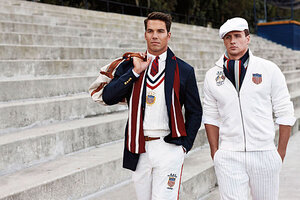 Ralph Lauren/REUTERS
If there is one good thing to come out of this controversy over where the US Olympic uniforms are made, it is this: That, just for an afternoon, we all got to imagine Senate majority leader Harry Reid in a wrestling singlet.
Yes, that glorious image was provided by none other than the silver-haired and bespectacled majority leader himself, who was apoplectic upon learning that the US Olympic team's uniforms were made in China. He suggested that the team should be clothed with "made in the USA" garb, even if that meant wearing raggedy singlets painted with "USA."
Now, roughly half the NBC viewing demographic would probably have no qualms about seeing Ryan Lochte wearing a singlet of any sort. And we would have had no qualms if Senator Reid had focused his fire on those silly berets Ralph Lauren insists upon Americans wearing during opening ceremonies.
But if we're really trying to bring the United States Olympic Committee (USOC) into the "outsourcer in chief" argument here, let's make something plain.
---