USA steamrolls Spain in Olympics tuneup: Did Spain tank on purpose? (+video)
The US men's basketball team dismantled Spain – supposedly its biggest challenger in London – 100-78 Tuesday in Barcelona. But Spain might still have something up its sleeve.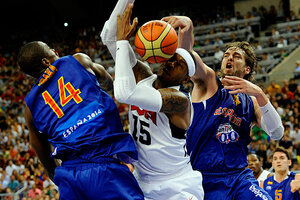 Manu Fernandez/AP
Did the Team USA just announce itself as the prohibitive favorites heading into the London Olympics, or was Spain playing possum?
We'll probably have to wait until a potential matchup in the final to find out. And that could be just the way the Spanish like it.
Based on the evidence from Tuesday's 100-78 thrashing in Barcelona, the Spanish threat to America's gold-medal defense in men's basketball would appear to be something along the lines of a pop gun arrayed against an armored tank unit (LeBron James, of course, being the tank). Then again, all the evidence is that we don't have all the evidence.
Before the game, there were noises that Spain was not going to try to win. American Kobe Bryant barked that Spain would be mad not to take this game on the 20th anniversary of the Dream Team's gold-medal run in Barcelona seriously.
"They're at home, man. They have to play us [hard]. You think they can just come out and lose in front of their own fans?"
The answer to that question, it appears, is "yes." Emphatically.
It may transpire that the US is better than Spain. Perhaps significantly better. It is hard to imagine, however, that it is 22 points better – in other words, that Spain is go-back-to-Barcelona-with-your-tail-between-your-legs worse.
---