Olympic schedule, what to watch today: Men's soccer
Today's Olympic schedule is all about men's soccer. Spain vs. Japan and Great Britain will play Senegal.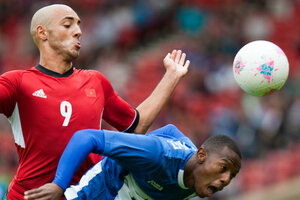 Chris Clark/AP
Men's soccer is the sport to watch on today's Olympic schedule; there will be eight matches total, with several top-seeded teams playing today.
Play begins at noon (EDT) with Honduras vs. Morocco.
The most exciting matches today may be Spain vs. Japan, and Great Britain vs. Senegal. Spain and Japan will play at 2:45 p.m., and it will be the first time Spain has competed in men's soccer at the Olympics since 2000, and the first Olympics after beating The Netherlands 1-0 in the 2010 World Cup,
Great Britain and Senegal play tonight at 8 p.m. (EDT). It will be the first time since 1960 that players from all the British isles have combined to form one Olympic team, and it's sure to be a powerhouse. Senegal, who has never competed at the Olympics before, will be the underdog.
---