The $14 billion Summer Olympics: Why does London even want them?
Unlike recent past hosts of the Olympic Games, London has nothing to prove to anyone. Yet it has paid handsomely to hold the Games – for reasons that go beyond mere prestige.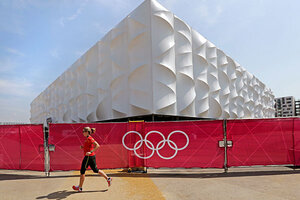 Charles Krupa/AP
As London prepares to throw the world a $14 billion party, it seems fair to ask the question: What does it get out of the bargain aside from some shiny medals, pleasant memories, and an excess of David Beckham bobblehead dolls?
Salt Lake got to show that its Mormon community was open to the world. Turin got to show that it was not the Detroit of Europe. China got to give the world a glimpse of the superpower-to-be. And Vancouver got to show the world that Canadians are not, in fact, Americans.
But London? It hasn't had anything to prove to the world since Waterloo, and the supposed economic benefits of hosting the Olympics have long been dubious. Some experts say the Olympics are a net gain, boosting trade and global prestige. Other experts say those experts are bonkers. One thing that seems certain is that the cause of the current global malaise is not a shortage of Olympic velodromes.
So have cities like London, Paris, Madrid, and Tokyo – who have all bid for the Games at some point in the past decade – simply taken leave of their senses? Why does any city without a global chip on its shoulder want the Olympics, with all its traffic jams, stadium projects, and cosseted International Olympic Committee barons?
---