Opening Ceremony London 2012: wit and charm on a midsummer's night
The opening ceremony of the London 2012 Summer Olympics offered China – and the world – a lesson. And yes, it crackled with British music, literature, and humor.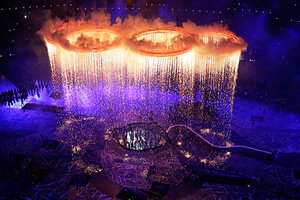 Morry Gash/AP
Supposedly, it was London's bad fortune to be the next Summer Olympics host after Beijing. Who, after all, could top that opening ceremony?
Instead, London offered China – and the rest of the world – a lesson.
Superpower? Been there, done that.
In an opening act rare among those in the history of Olympic opening ceremonies, the London organizers did something extraordinary: They were honest.
What other nation, in a moment of national glory that politicians pay billions of dollars to win, would allow such a view of their own country to be broadcast to the world?
One that has been there, done that, and no longer has anything to prove to anyone.
In a night that crackled with British music, literature, and humor – yes, that was the actual queen with 007 – it was an opening act about the Industrial Revolution that made this night as memorable as the one in Beijing four years ago.
Not for the pyrotechnics, which were impressive but not to be compared to Beijing, but for a story that dared to be heartbreaking – that invited the viewer to consider how the Industrial Revolution that began in English mills rippled out to change the English countryside, the world economy, and the human condition.
This, to say the least, was a change of pace from four years ago.
The brilliance of the opening act was in its initial subtlety – and perhaps impossible to fully appreciate on television. An hour before the ceremonies began, while the stadium was still silent but for the hum of the arriving crowd, the country village set in the center of the Olympic Stadium was inhabited.
---