Michael Phelps vs. Ryan Lochte: race set to shake the London Olympics
Michael Phelps and Ryan Lochte represent a new breed of swimmer limited more by the schedule than their skill. Saturday's 400 IM will be one of two times they face off in the London Olympics.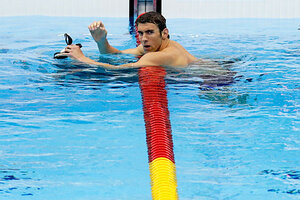 Tim Wimborne/REUTERS
If Michael Phelps loses to Ryan Lochte in the 400-meter individual medley Saturday night here, he will have no one but himself to blame.
Not because he shirked training sessions as the Olympics approached (because he did not). And not because he went Bode Miller circa 2006 on the Olympic Village, leaving a trail of drunken photographs for TMZ to follow (because he did not).
Rather, because this is the world he created in Beijing.
Before Beijing began – before Phelps's eight gold medals – American backstroker and world-record holder Aaron Peirsol said his goal was to win three golds. "Usually, three would be very good," he smiled.
Not anymore.
And the Ryan Lochtes of the world know it.
Why did Lochte go out after Beijing and start flipping 850-pound tires down a Florida road? Why did he drag around 535-pound boat chains and toss beer kegs over his head?
Because of Michael Phelps.
Granted, this world does not have too many Ryan Lochtes. "A Michael Phelps only comes along once in a generation. But now we have a Michael Phelps and a Ryan Lochte in the same generation – it's a phenomenon you don't normally see," says Glenn Mills, an Olympic swimmer in 1980 who now runs Go Swim!, helping swimmers hone their technique through video training.
But to Mills, London marks the rise of a new breed of swimmers in the image of Phelps and Lochte – swimmers who are bound less by skill and more by how many races it is physically possible to swim during a one-week period. Phelps, for example, could have competed in the 200-meter freestyle in London, but declined.
---