Opening Ceremony London 2012: Did director take shot at US on health care?
The director of the opening ceremony for the London 2012 Games created a production for the 99 percent, it seems. For an Olympic movement that hates controversy, that is unusual.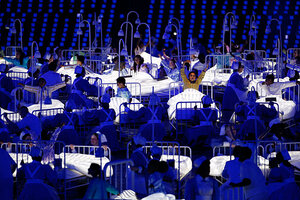 Jae C. Hong/AP
Of all the things to laud in Britain's long history, the director of the opening ceremonies for the London Olympics chose for his second act ... universal health care.
Yes, that "NHS" spelled out by hospital beds in Friday's opening ceremonies stands for Britain's National Health Service – the government-run universal health-care system that director Danny Boyle called an "amazing thing to celebrate."
Bob Costas, you're not in Kansas anymore.
It is more than a little bit presumptuous to imagine that Mr. Boyle was sending coded political messages to American voters who can't hear the words "universal" and "health care" in the same sentence without invoking the Commerce Clause. But that doesn't mean Boyle didn't have a message.
He insisted that message was not political, but rather a reflection of the values that British society holds dear and emanates to the world.
"One of the reasons we put the NHS in the show is that everyone is aware of how important the NHS is to everybody in this country," he said at a press conference earlier in the day. "One of the core values of our society is that it doesn't matter who you are, you will get treated the same in terms of health care."
---