From 'Hunger Games' to 'Call Me Maybe,' how athletes sell Olympic sports (+video)
Athletes at the London Games don't just have to be world class, they often have to be salesmen for sports that slip into obscurity after the Olympics are over.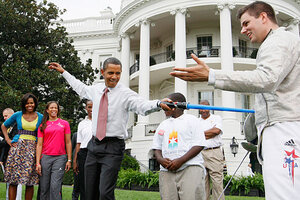 Charles Dharapak/AP/File
Tim Morehouse recognizes that most of America doesn't care about his sport. He just refuses to accept it.
To say that Morehouse is a fencer is vast understatement. He is nothing less than a zealot of his sport – a man whose silver in the men's team saber in Beijing gives only the smallest indication of what he is to fencing in America. In the five-ring circus that is the Olympics, Morehouse is the P.T. Barnum of the fencing piste.
He has written a biography titled (of course) "American Fencer," which is really more about how totally awesome fencing is than about Morehouse himself. He wants to write another book on the history of American fencing, enthusing to the media with the hint of a suggestion: Did you know The New York Times had a fencing beat writer in the 1920s?
Before coming to London, he fenced Boston Mayor Tom Menino at a Olympic sendoff event, successfully winning the promise: "You win the gold medal, I'll have a party for you in the city of Boston, at City Hall Plaza." Then he went to New York, where he ran the fencing tournament he singlehandedly conceived and created, and which received national television coverage and sold out 2,500 tickets at the Hammerstein Ballroom in New York.
---