Olympics shocker: Jordyn Wieber, US all-around gymnast, fails to qualify
Jordyn Wieber, the 2011 gymnastics all-around world champion, failed to make the Olympics final. Her US teammates were too good.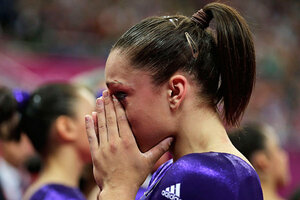 Gregory Bull/AP
This was, we have been told, the deepest women's gymnastics team that the United States has ever sent to the Olympics.
On Sunday, that became a potential problem.
Only two girls from the US team can qualify for the Olympic all-around final – the event that made Mary Lou and Nastia and Nadia gymnasts who no longer needed a last name. In London, it turns out, neither of the American girls on the mat will be named Jordyn.
Jordyn Wieber, the 2011 all-around world champion and a strong favorite to win gold in the all-around here, finished with the third-highest score on the American team in its qualification round Sunday. Now, Ms. Wieber will be sitting in the stands Thursday night when Gabrielle Douglas and Alexandra Raisman compete for the all-around title that many thought would be hers.
From the perspective of Team USA, gold-medal hopes in the all-around are not dashed. Earlier this month, Ms. Douglas topped Wieber at the Olympic trials in San Jose, Calif. – though by only 0.1 points. Douglas could certainly win gold. But she had been seen as being less consistent than Wieber. In Ms. Raisman, the US team has someone perhaps more consistent than Douglas but less thrilling.
---