James assumes leadership role as Team USA humbles France
LeBron James has eight assists yesterday and Kevin Durant scored 22 points as the US defeated France, 98-71, in each team's first basketball contest of the 2012 Olympic Games.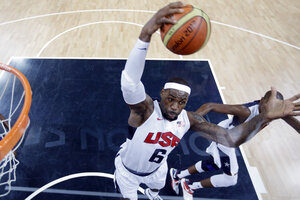 Eric Gay/AP
LeBron James has established his NBA career by being one of the most versatile and athletic performers.
Sunday, James added to his illustrious credentials by subjugating his own offensive tendencies in favor of assisting others – eight, with Team USA getting 25 total in demolishing France, 98-71 at London's Olympic Park Basketball Arena in their opening Olympic contest.
On one play in particular, a long pass from James, following a Tyson Chandler rebound of a Tony Parker shot, fell in the hands of a perfectly synchronized Kevin Durant for a massive dunk. It was the first of many such dunks in a game that made France look like more like a college squad than a world-class basketball team.
That James-Durant hookup was emblematic of how the tightness of Team USA's opening minutes began to melt away like a candy bar in the hot July sun. Both France and the U.S. began the game with numerous fouls – seemingly feeling out the FIBA (Fédération Internationale de Basketball) officiating crew that was initially calling the game very tightly.
---