Ryan Lochte finishes fourth as other swimmers steal the Olympic show
Ryan Lochte finished fourth in the 200-meter freestyle Monday, but it didn't diminish a fantastic night of swimming at the Olympics. In fact, it might have made them even better.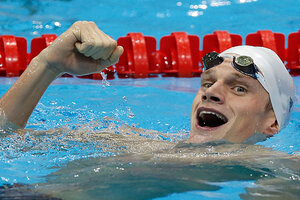 Daniel Ochoa De Olza/AP
Apparently, the world does not get NBC, because it didn't appear to get the message that this is supposed to be the Michael Phelps and Ryan Lochte Olympics.
Monday night at the Aquatics Centre was filled with no shortage of brilliant stories.
What about 17-year-old Missy Franklin, the native of Aurora, Colo., winning the first of what could be four individual medals in the 100-meter backstroke?
Or how about two swimmers that probably no Americans have ever heard of – countrymen Matt Grevers and Nick Thoman – pulling off the first American gold-silver sweep of the London swimming program in the men's 100-meter backstroke?
Or Ritu Meilutyte, the 15-year-old Lithuanian who appeared bewildered on the pool deck, seemingly unable to grasp the fact that she had actually won the women's 100-meter breaststroke by the length of one of her green, red, and yellow-painted fingernails?
Lochte left behind
But not one of them featured Mr. Lochte stroking through the pool like an aquatic Colossus, leaving only a trail of seared swimming caps in his wake. In fact, in Lochte's race, it would be criminal not to celebrate Yannick Agnel, the Frenchman who conjured up a repeat of his gold-medal performance Sunday to win the 200-meter freestyle Monday in a swim so fast it seemed to leave contrails in the East London water.
---