Olympic Dressage gets under way. How did Ann Romney's horse do?
Dressage has been compared to ballet, but from a scoring standpoint, it's a lot like gymnastics or figure skating: the more difficult the routine, the higher the starting point value.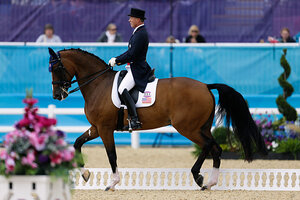 Markus Schreiber/AP
Dressage, which wraps up its first day of Olympic competition today at Greenwich Park in London, may be having its most high-profile season ever, thanks to the Romneys. Ann Romney's horse, Rafalca, made her Olympic debut this morning in the first group of riders in the team competition. So, in the wake of becoming a political liability and a favorite punchline for Stephen Colbert, how did the 15-year-old Oldenburg mare do on her first day?
Great, if you ask Ann Romney. "She was consistent and elegant," Mrs. Romney told the Associated Press following Rafalca's outing with rider and co-owner Jan Ebeling. "She did not disappoint. She thrilled me to death."
Mr. Ebeling was excited, too, telling the AP that Rafalca was "amped up" and had a little more "oomph" than usual. The pair scored a 70.213 out of 100 on their initial test, a solid score that put them in the middle of the pack fairly early in the day.
Republican presidential candidate Mitt Romney reportedly did not watch the event. Mr. Romney told NBC's Brian Williams last week that this was Mrs. Romney's sport, dubbing her "the horse guy."
"I am not even sure what day the sport goes on," Romney said. "I will not be watching the event. I hope her horse does well."
How does it work?
---