Olympic medal count: Women shine as US surges past China
It was a day worth celebrating as the US passed China in total medal count and caught them in gold, with gold medal performances by American women in four events.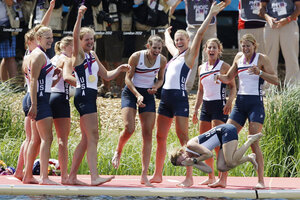 Chris Carlson/AP
Throughout the day as the medal count kept climbing, the US closed the gap on China, tying the gold medal count at 18, and overtaking them with a total count of 37 to China's 34.
The US women were relentless Thursday. The women's eight rowing team won their event, Kayla Harrison took judo gold, Gabby Douglas beat the Russians in the women's gymnastics all-around, and swimmer Rebecca Soni set a new world record in the women's 200-meter breaststroke.
All four performances were dominating, beginning with the rowers whose win continued a phenomenal seven-year streak. The US was solid from the start, taking a full boat-length lead, and then finishing strong. They cruised past Canada and the Netherlands to take their second consecutive Olympic gold medal in the event, and their seventh straight title.
Harrison brought home America's first-ever gold medal in judo. She won the final match of the women's 78 kilogram weight class, overcoming Great Britain's Gemma Gibbons. Harrison, who is originally from Ohio, was ranked fourth in the world entering the London Games, and she faced stiff competition on her quest for gold, including her rival, Brazilian Mayra Aquiar. Harrison beat Aguiar and became the first American woman in her weight class to reach the Olympic finals.
Harrison, and Washington resident Marti Malloy who took the bronze medal in the women's lightweight finals on July 30, are only the second and third US women to medal in Olympic judo.
Douglas' gymnastics all-around rotation was a dazzling performance. From her massive vault through her crowd-pleasing floor exercise, Douglas was medal-bound all the way. She kept her cool against Russians Viktoria Komova and Aliya Mustafina, who won the silver and bronze medals respectively. Komova and Mustafina scored higher than Douglas on only one apparatus, the uneven bars, which is their signature event. 
It was a bitter-sweet evening for the US women in gymnastics, while Douglas was flying high, her teammate Aly Raisman fell behind. Errors on the balance beam left Raisman in fifth place going into the floor exercise, the final event. She managed to tie Mustafina, but a tie-breaking score calculation gave the bronze to Mustafina. 
Douglas is the third consecutive US gymnast to win the women's all-around gold. In 2004 it went to Carly Patterson and in 2008 it went to Nastia Liukin. It was Douglas' second gold medal at the London Games, she helped lead the US women to victory in the team finals on Tuesday.
Soni also grabbed a second medal in London, and set a world record to boot. In the women's 200-meter breaststroke she was nearly 2.5 seconds faster than second-place finisher Satomi Suzuki from Japan. Soni had entered the London Games a favorite to win both the 100-meter and 200-meter breaststroke; she took the silver in the 100-meter. 
Tyler Clary also won a gold medal and set an Olympic record in the men's 200-meter backstroke, and Michael Phelps and Ryan Lochte took gold and silver respectively in the men's 200-meter individual medley. 
---