Olympic medal count: Women shine as US surges past China
It was a day worth celebrating as the US passed China in total medal count and caught them in gold, with gold medal performances by American women in four events.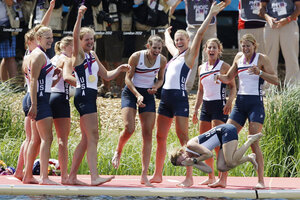 Chris Carlson/AP
Throughout the day as the medal count kept climbing, the US closed the gap on China, tying the gold medal count at 18, and overtaking them with a total count of 37 to China's 34.
The US women were relentless Thursday. The women's eight rowing team won their event, Kayla Harrison took judo gold, Gabby Douglas beat the Russians in the women's gymnastics all-around, and swimmer Rebecca Soni set a new world record in the women's 200-meter breaststroke.
All four performances were dominating, beginning with the rowers whose win continued a phenomenal seven-year streak. The US was solid from the start, taking a full boat-length lead, and then finishing strong. They cruised past Canada and the Netherlands to take their second consecutive Olympic gold medal in the event, and their seventh straight title.
---