London 2012 shot put signals weekend packed with track and field
London 2012 shot put: American Christian Cantwell finished fifth in the qualifying rounds for men's shot put Friday. The finals will be Friday at 3:30 p.m.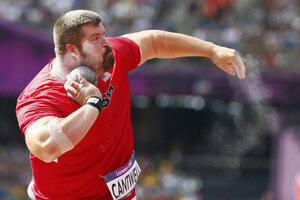 Kai Pfaffenbach/Reuters
Google celebrates the shot put Friday with another Olympic Doodle. The men's finals are Friday at 3:30 p.m., but it's only the start of a weekend jam-packed with track and field events.
The US's Christian Cantwell, from Missouri, will have another chance at an Olympic medal. Cantwell is currently in the same place he was going into the shot put finals at Beijing. He's in fifth after the qualifying rounds, and will have to rally to place in the top three. Cantwell was able to do it in Beijing, walking away with the silver medal.
Coming off of Beijing, Cantwell had an outstanding run in his career. In 2009, he toppled the reigning Olympic champion, Thomasz Majewski of Poland, and won the world outdoor championship. Then, in 2010 Cantwell became the first man to win three world indoor titles in men's shot put. But recently, he has been recovering from surgery on his right throwing arm.
Once again, Cantwell will try to throw further than his rival Majewski, who finished second in qualifying rounds.
---