London 2012 synchronized swimming duet competition kicks off with Americans
London 2012 synchronized swimming: Americans Mary Killman and Mariya Koroleva have only swam together for a year and today they were the first duet to perform in preliminary competition.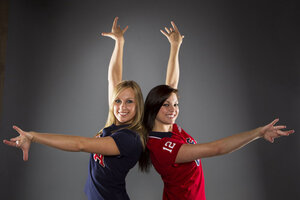 Lucas Jackson/Reuters
On Sunday morning Americans Mary Killman and Mariya Koroleva were the first duet to swim in the synchronized swimming duet competition. The pair scored a 87.900 out of 100, in the preliminary rounds.
The partnership between Ms. Killman and Ms. Koroleva is relatively new. They've been a synchronized swimming duet for less than a year.
"For a synchronized swimming duet, being together for a year is a very, very short amount of time," Koroleva told reporters at the London Games. "I think we've definitely accomplished a lot in that year. Even though we're a new duet, we're at that level where we can be competitive with other duets who have been together for years."
On Sunday and Monday there will be 24 duet teams swimming in preliminary competition. The top 12 duets will advance to the final round on Tuesday.

Though Killman and Koroleva may not have had as much time together in the pool as the other teams, the pair was able to capture the silver medal in duets at the 2011 Pan Am Games, and they are both experienced synchronized swimmers in their own right.
---