Michael Phelps: Will his Olympic medal records ever be broken?
Sure, everyone loves a bit of Michael Phelps hyperbole, but it is almost inconceivable that his Olympic career gold and total-medal marks could be broken in any foreseeable future.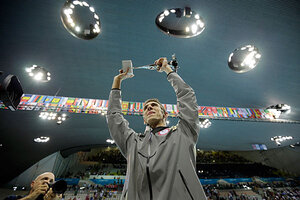 Matt Slocum/AP
In the end, what did Michael Phelps not do?
When he finished his last competitive lap Saturday, for the gold-medal winning American 4x100 medley relay, his professional to-do must have had a whole lot of check marks.
More than any other athlete at these Games, perhaps, he has "inspired a generation" – as the London Olympic motto goes. In fact, they were in the pool with him.
When 15-year-old American Katie Ledecky won the 800-meter freestyle Friday, the first memory that she recounted was of meeting Michael Phelps and how much it meant to her that before her race, he wished her good luck.
When 20-year-old South African Chad le Clos beat Mr. Phelps by 0.01 seconds in the 200-meter butterfly on Tuesday, he said: "Phelps is my hero, and I love the guy…. You don't understand what this means to me. This is the greatest moment of my life."
He has changed perceptions of the possible and laid a marker for the enormous work needed to achieve the extraordinary. He pushed Ryan Lochte to flip tires and pull chains in order to beat him. He inspired Missy Franklin to swim in more Olympic events in London than any other American women had before.
---