Michael Phelps retired: Will he change his mind before Rio Olympics?
Michael Phelps has said Saturday's race at the London Olympics was his last as a professional swimmer. But many other elite athletes have tried to retire on top and failed.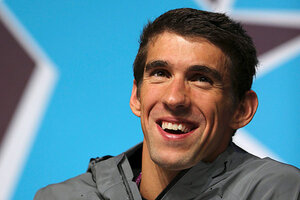 Larry Rubenstein/REUTERS
If at age 40 and recently put through the trash compactor that was the 2009 New Orleans Saints defense, quarterback Brett Favre couldn't stay retired, then how in heaven's name can Michael Phelps walk away from everything he has ever known on top and at 27?
The question must be asked, not because Mr. Phelps has ever given any indication of going back on his promise to be done with swimming by age 30, but because he is attempting something many have tried to do with sincerest intentions – and failed.
Of course, what does he have left to do?
Hit a cool quarter century of Olympic medals? Be the first man to defend an Olympic swimming title three times? Get free plane tickets to Rio in 2016?
Motivations become scarcer every time he hits the pool.
Then again, what motivations did Michael Jordan have for becoming a Washington Wizard. A deep and burning desire to wear the legendary lightning W?
These things aren't always logical. In fact, they are frequently illogical, so a well-deserved dose of skepticism usually greets the retirement announcement of any elite athlete who still has his head attached and is not yet drawing Social Security.
After all, didn't Phelps tell us all how much he loved racing? How is that going to work now? Selling sheetrock or becoming the new weatherman for WBAL-TV might not exactly scratch that itch.
"I think I've been kind of confused and out there all day," Phelps told USA Today Sunday. "Don't know what to do. I don't know. It's weird not having swimming anymore."
Still hates to lose
---