Usain Bolt and Jamaica: Have they left US Olympic sprinters behind?
Jamaican sprinters took gold and bronze in the 100 meters Saturday, and the men, headlined by Usain Bolt, are hoping for a sweep Sunday at the London Olympics.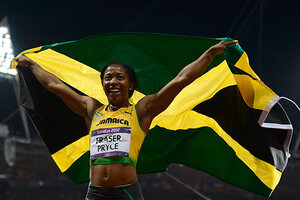 Dylan Martinez/REUTERS
In some corners of Jamaica Saturday night, it is possible that there was just the slightest twinge of regret. After all, their women did not manage to sweep the medals in the 100-meter dash, as they did in Beijing. Gold and bronze would just have to do.
Round 2 comes Sunday night in the men's 100 meters when, again, the Jamaican people will hope for a medal sweep that, while perhaps not probable, is certainly possible.
This is the world that the Jamaican sprinters – and their American opponents – now find themselves living in, and for the Americans, it is taking some getting used to.
Since the beginning of the modern Olympics, Americans sprinters – and particularly the American men – have owned the 100 and 200 meters, the signature events of the Olympic track and field program. Only twice since the 100-meter event began in 1908 has an American man not been on the podium in a nonboycotted Games. In the 200 meters, American men have swept the medals six times.
With the Jamaicans turning the tables on the US in Beijing, winning all four races and collecting seven medals in the process, questions dogged the Americans. What was wrong? The answer, it seems, was that the Jamaicans are what's wrong with US sprinting, and short of hoping that the team plane lands in London, Ont., instead of London, England, it's not something that the US can do a lot about.
"What we are seeing is a rise in the level of the Jamaican sprinters," says David Wallechinsky, author of "The Complete History of the Olympics." "You can't prevent the rest of the world from getting better."
---