Aly Raisman, dependable to the last, delivers gold as teammates stumble
Aly Raisman was the third wheel of the US gymnastics team heading into London 2012. Now, at the end of a rough few days for her teammates, she is the one in the spotlight at last.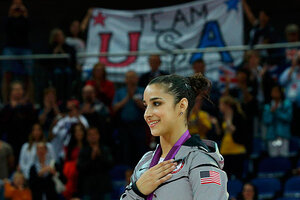 Brian Snyder/REUTERS
By the measure of the all-important medal table, at least, these were Alexandra Raisman's Olympics, and for the steady-as-she-goes member of America's Fab 5, that sounds about right.
A third wheel before these Games began, outshone by the ethereal lightness of Gabrielle Douglas and the gymnastic pedigree of Jordyn Wieber, Ms. Raisman now has a third medal, more than any other American gymnast in London. Indeed, by the final day of the gymnastics program here, Raisman was the only one of her teammates left standing – and atop the medal stand, no less, with a bronze on beam and a gold on floor.
One by one, her teammates fell – sometimes literally – in the event finals, seemingly emotionally spent by the enormity of their accomplishment in winning the team event during the Games' first week. "It's so hard to get back in focus," said Ms. Douglas, who finished seventh on the beam Tuesday, and at one point in her routine was left hugging the beam with both her arms and legs after a slip.
But Raisman had no gold-medal hangover. No fuss. No fanfare. Just solidly, dependably Aly, down to the last day of gymnastics. And for that, alongside the grace of Gabby, the determination of Ms. Wieber, and the free-flying antics of McKayla Maroney, Raisman at last got her own day in the spotlight.
---