Allyson Felix: Olympic gold at last for athlete of uncommon grace
Allyson Felix had known only disappointment at previous Olympics. But in winning the 200 meters Wednesday, Felix found that the setbacks had led her to a place even more 'special.'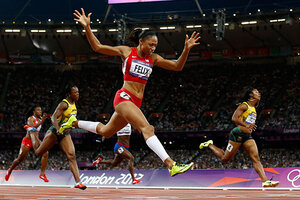 Matt Dunham/AP
When Allyson Felix crossed the finish line first in the 200 meters at the Olympic Stadium Wednesday night, there was not a single fist pump, nor was there a visceral scream of vindication. There was just her smile, broadening in the realization of what she had finally accomplished, and three words not even spoken aloud: "Thank you, Lord."
For Felix, that constituted a victory celebration.
No matter that this was the biggest moment of her professional career. No matter that eight years of her life had been singly focused on this one achievement. No matter that an Olympic gold was the one missing piece in a résumé that has seen her heralded as the greatest female 200-meter sprinter of her generation.
When that moment of fruition came, it was still the same Allyson Felix – the woman whose rapturous stride is only the most obvious expression of an inner grace.
The daughter of a preacher and a third-grade school teacher, Ms. Felix was raised to recognize that there is more to life than sprinting. Motivated by strong faith, Felix often says her sprinting is "a gift from God," and that she does it to praise Him. She downloads sermons to listen to when she is on the road, and before every race, she and her mother say a prayer – even if it's over the phone.
Speaking of the Scottish missionary and Olympic sprinter whose life was chronicled in "Chariots of Fire," she told ESPN the Magazine: "Eric Liddell said that when he ran, he felt the joy of the Lord through him. I always think, 'It cannot just be you'.... That's not all there is."
After turning pro at age 18, Felix still got a degree from University of Southern California, doing the work between and sometimes on the way to events. Before Beijing, she agreed to be part of a program by the US Anti-Doping Agency called "Project Believe," in which 12 athletes agreed to increased testing in an effort to help the agency improve its methods for catching drug cheats.
---