London 2012 Olympics: Has Russian sports machine broken down?
Russia's sports minister warned of 'disciplinary decisions' in response to a fifth-place overall standing at London 2012. About a fifth of Russians say the Olympics were a 'complete failure' for Russia.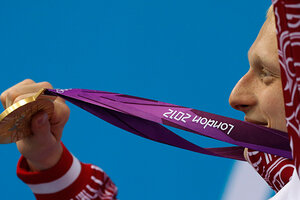 Adrees Latif/Reuters
As a former sports superpower that rarely finished outside the top three in Olympic medal counts, Russians are expressing deep anxieties about a less-than-stellar performance in London this year.
Though the medal count has grown over the past couple of days, and Russia is currently fifth in overall standings. Many worry that the once great sports machine may be broken, and Russia may be due to be humiliated when it sponsors the Sochi Winter Games in barely two years time.
A poll released at the beginning of this week – before the current Russian surge began – found that 69 percent of Russians were "dissatisfied" with Team Russia's Olympic performance. The survey, reported by the official ITAR-Tass agency, found that about a fifth of Russians viewed the Olympics as a "complete failure" for Russia, while about half believed that "this is an unexpectedly bad result."
The Russian Olympic Committee had put its gold medal target at between 20 and 30 in the Olympics' total of 302 events. Four years ago, in Beijing, the Russian team came in third with 23 gold medals. In Athens, in 2004, Russia also ranked third, with 27 gold medals. At the Sydney Games in 2000, Russia took 32 gold medals.
---