London 2012 basketball: US men and women take on the Aussies
London 2012 basketball: The US men's basketball team takes on Australia in Olympic quarterfinal action Wednesday. On Thursday, the American women also play the Aussies in their semifinals.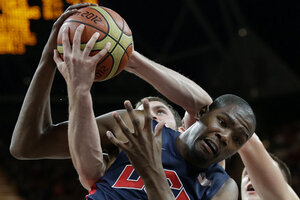 Eric Gay/AP
The weak have been weeded out. The basketball field at the London Games is narrowing and the US teams are looking golden.
On Wednesday, the men prepare to take on Australia in the quarterfinals at 5:15 p.m. EST. The powerhouse US team has been undefeated at the Olympics so far, crushing most of their competitors with outrageous point margins, like their 156-73 win over Nigeria.
The Australian men have struggled a bit more, losing twice at the Olympics, 82-70 to Spain, and 75-71 to Brazil. The highest scorers for Australia have been center David Andersen, forward Joe Ingles, and point guard Patrick Mills. Mills, who plays for the San Antonio Spurs in the NBA, is currently the second-highest scoring player at the London Games, averaging 20.2 points per game. But Mills, Andersen, and Ingles, as well as the team as a whole, will have to be at their best to take down the star-studded US team.
The US's small forward, Kevin Durant, of the Oklahoma City Thunder, is known as the most prolific scorer in the world, but has averaged only 18.6 points per game. Small forward Carmelo Anthony, who plays for the New York Knicks, is the second-highest scorer for the US, averaging 17.4 points per game. But the US men as a whole have scored an average of 117.8 points, leaving Argentina far behind in second place with 89.6.
---