London Olympics 2012: US women wrestlers answer the doubters
The four female wrestlers representing the US at the Olympic Games in London all grew up wrestling boys in high school, and have faced a lot of doubters in their years on the mat.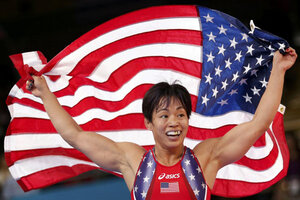 Damir Sagolj/Reuters
When Kelsey Campbell showed up at her first wrestling practice back in high school, her coach took one look at her and handed her a mop. She wanted to wrestle, but the coach just didn't get it, Ms. Campbell says: She was a girl, and wrestling was for boys.
"I think he thought I was the team manager or something," she explains.
Fast forward ten years, and Campbell, now 27, is one of four female wrestlers representing the United States at the Olympic Games in London. She's joined by dozens of other powerful women athletes from around the world who are taking to the wrestling mats inside London's Excel Centre on Wednesday and Thursday this week.
Women's wrestling has been part of the Olympics since the Athens Games in 2004, when the American team took home silver in a mid-weight division and bronze in the light-weight. The sport has come a long way since, as evidenced by the quality of the competition in London this year, says the American women's head coach Terry Steiner.
"Before, only a couple of individuals in each weight class really had a chance to win. Now I think there's a handful – probably six, seven, or eight girls – who on a good day could probably win the tournament…. There's not really an easy draw."
---