Olympic medal count: A day of ups and downs for the US women
Tuesday, American women ran in the women's 100-meter hurdles, winning silver and bronze, and gymnast Aly Raisman walked away with gold and bronze medals. But other US women were left empty handed.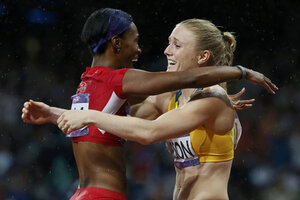 Lucy Nicholson/Reuters
It was a day of good results for some American women, and a day of disappointment for others.
On the track, Americans Dawn Harper, Lolo Jones, and Kellie Wells went head to head in the women's 100-meter hurdles. But it was Aussie Sally Pearson who walked away with the gold. Pearson has dominated the hurdles all season, with increasingly quick times, and Tuesday was no exception. She ran a 12.35, setting a new Olympic Record.
Harper was right behind Pearson with a time of 12.37, to win the silver, and Wells won the bronze with a time of 12.48. Jones, the fan favorite, finished a disappointing fourth.
On the last day of women's gymnastics competition Aly Raisman walked away with two more medals, a gold in floor exercise, and a bronze on the balance beam. It was redemption for Raisman, who fell short of the bronze medal in the women's all around competition when a tie-breaking calculation by the judges put Russian Aliya Mustafina in third place.
Though teammate Gabby Douglas, the gold medal all around winner, fell on the beam, Raisman stayed steady. She finished with a score of 15.066, behind China's Deng Linlin, who won the gold with an outstanding score of 15.600 and Sui Lu, also from China, who walked away with as score of 15.500 and the silver medal.
---