Spirit of London Olympics overcomes Falklands War saber-rattling
Britain and Argentina faced off on the hockey pitch for the second time at the Olympics Wednesday. Fans say the lingering acrimony over the Falklands War isn't an issue, despite rhetoric.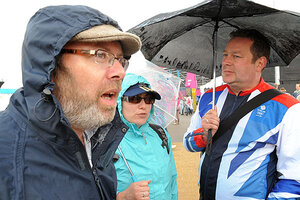 Mike Munhall/Special to The Christian Science Monitor
With the 20th anniversary of the Falklands War this April, 2012 has not been the friendliest of years for Britain and Argentina.
First, the Royal Air Force sent Prince William to the Falklands for six weeks in February as part of his search-and-rescue duties as a helicopter pilot, then it announced that it would send one of its most modern warships to the South Atlantic islands – both moves it called "routine."
Then the office of the Argentinian president sent a hockey player to the Falkland Islands to shoot an advertisement that included the athlete doing step drills on a British war monument there. It finished with the line: "To compete on English soil, we train on Argentinian soil" (see below).
Perhaps British Prime Minister David Cameron should just invite Argentinian President Cristina Kirchner to Olympic Park. So far, two hockey games between the rivals have passed without much to talk about anything but the sport. First, the British men won in the preliminary round, 4-1. And on Wednesday in the semifinals the Argentinian women won, 2-1, watched by Kate, the Duchess of Cambridge.
To hockey fans of both Britain and Argentina at the venue, however, the Falklands were a nonissue. "Everyone are Olympic fans," said Paul Hurley, who attended a hockey game on the second day of the Games. "No one wants to get involved with that."
---