Kobe Bryant awakens in Team USA's win over Australia
The Americans, after beating the Aussies in the men's basketball quarterfinals, will face Argentina once again for the chance to go for the gold.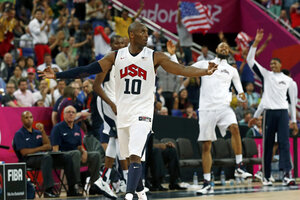 Sergio Perez/REUTERS
Team USA gained a trip to the Olympic semifinal round last night largely on the shoulders of five-time NBA champion Kobe Bryant, who hit six three-pointers en route to 20 points on the evening to pace the Americans to an overwhelming 119-86 victory over Australia at the "Marshmallow" – the London Games' basketball facility.
LeBron James added his (and the team's) first triple-double with 11 points, 14 rebounds and a stellar 12 assists, but in Bryant, who coach Mike Krzyzewski has urged to release his inner "Black Mamba," Team USA found the inspiration it needed to surmount an 11-0 run by the Aussies at the beginning of the third quarter but in fact, Team USA got very balanced overall production from its marquis players, with Deron Williams adding 18 points, Carmelo Anthony contributing 17, and Kevin Durant 14.
---