London 2012 Olympics: Why Usain Bolt is bigger than Michael Phelps
At the London 2012 Olympics, Michael Phelps is respected, but Usain Bolt is beloved for his flair and style.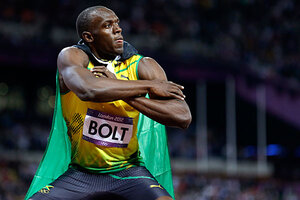 Anja Niedringhaus/AP
Jack Guntrip pauses for a moment, trying to find the right words to summarize the man that is Usain Bolt. Why is Bolt the single most exciting athlete at the London 2012 Olympics? It is an important question, the blond-haired and befreckled young boy knows, and he wants to make sure he makes his feelings plain.
"He's just the man," Jack says.
In London, he is indeed.
Bolt will run Thursday night in the 200 meters, his favorite event. If he wins, he will become the first Olympian ever to win the 100 and 200 meters at consecutive Olympics – an achievement, he says, that is the last step toward him becoming "a legend."
Michael Phelps might have more medals here, the better work ethic, and the cleaner and more Olympic lifestyle, but he doesn't have it. At least, not by the measure of the hometown crowd. Phelps is respected here, certainly, but Bolt is beloved.
While Phelps is a steely efficient medal machine – somewhat indulgently allowing himself his contented smile here in London – Bolt is a traveling carnival of irrepressible exuberance. When he runs, the crowd is not an adjunct to his performance, but the fuel for it. He is there not just to run fast – which he does, and breathtakingly – but to run fast for them, and they know it.
He is the fastest show on spikes, and for many of those at London 2012, the most enjoyable act in the Olympics' five-ring circus.
"The razz-a-matazz gets the crowd excited," says Ollie Golden, who is at the Olympic Stadium to watch track and field. "He just transcends sport."
---