Brazilian boos at women's volleyball final: Gold won but Olympic spirit lost?
At the women's volleyball final Saturday, Brazil dominated the US for a deserved gold. But the Brazilian crowd's tone turned foul, raising questions about the Olympic spirit at Rio 2016.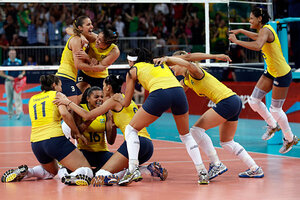 Dave Martin/AP
The world got a taste of what Rio 2016 might feel like at the women's volleyball gold-medal match, and it was at once a carnival and, perhaps, just a bit of a funeral.
In the end, there was no doubting how much it meant to the Brazilians, as they collapsed in a jubilant heap after the match's final point, wrapped in each other and their own disbelief. Volleyball is a national passion, and after losing the men's soccer final to Mexico earlier in the day, a win here seemed a golden tonic.
Nor was there any doubting that it was a gold medal thoroughly deserved. From the second set of their four-set demolition of a US team ranked No. 1 in the world, their volleyball was irresistible. Feeding off a crowd that was overwhelmingly Brazilian and louder than a jumbo jet at takeoff, every block, dig, and spike was party waiting to be unleashed, a Brazilian flag dancing in every aisle.
But it came at a cost, and one that will only be more pronounced come 2016.
The Olympic spirit.
The Olympics, after all, are not just another World League or Brazilian Superliga match.
They are the Olympics.
They are the place where American and Iranian wrestlers can stand atop the podium with nothing but friendship and mutual respect. They are where those who do not come first are cheered as earnestly as those who do. They are our two-week window into humanity's better nature, frankly.
And that was conspicuously absent at Earl's Court Saturday, as from the second set onward, the Brazilian fans booed loudly as every American stepped up to serve.
Whether or not it influenced the match or not is immaterial. If it did, it was only in helping the Brazilian team, which is notorious for playing on emotion. The US women, who face crowds much worse than this when they play on the road, probably found this tame. The booing is no excuse for their collapse after dominating the first set 25-11, and to their credit, the players did not try to make it one.
---