In London, Team USA individual brilliance outshone Spain
In a physical yet spirited Olympic final, the US overcame a gritty effort by Spain to capture the men's basketball gold medal.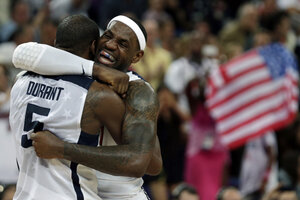 Charles Krupa/AP
Team USA, continually battling back against a Spanish team that wouldn't go away, managed to outlast the Spaniards, 107-100, to win the 2012 London Olympics gold medal in men's basketball yesterday at the Marshmallow.
The United States' 109-83 victory over Argentina on Friday night, complete with a 62-43 second half scoring clinic, once again set the stage for the US team's gold medal game rematch with Spain dating from the US's gold medal victory four years ago in Beijing.
Argentina, down by nine points at the half, allowed the U.S. to get in a scoring rhythm in the final two quarters they could never recover from. Kevin Durant scored 19 points, and LeBron James and Carmelo Anthony added 18 each in a second half run-and-gun, slam dunk exhibition that held fellow NBA star and Argentine guard Manu Ginobili and his teammates all but powerless.
Said Ginobili, "We had a great run in the first half … We started the third quarter well. And then we blinked."
---