Sochi Winter Olympics TV schedule: What to watch Thursday (+video)
The high-flying men's ski slopestyle, ice hockey, figure skating, and luge are events you don't want to miss today.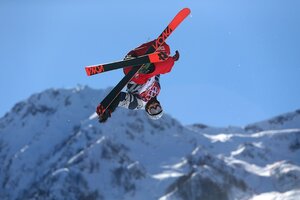 Sergei Grits/AP
Kick back your heels and tune in to watch the world's top athletes sprint, flip, and slide today in pursuit of victory at the Winter Games in Sochi, Russia. 
Highlights of the day include freestyle ski slopestyle, speed skating, cross-country skiing, luge, ice hockey, and figure skating.
NBC will air a tape-delayed afternoon broadcast from 3 p.m. to 5 p.m. EST and a prime-time broadcast at 8 p.m. EST. Its affiliate networks, including NBC Sports, MSNBC, and CNBC, will broadcast events throughout the day, and all events can be live-streamed by cable subscribers at nbcolympics.com.
You don't want to miss:
Men's ski slopestyle
The men's freestyle ski slopestyle competition was "thrilling," writes the Monitor's correspondent in Sochi. "To put it plainly: that was wicked fun. Can I tell you to watch NBC tonight? Is that journalistically ethical? Who cares. Miss it at your peril," he writes. (Find results here.)
The event is new to Sochi, and features skiers flipping and twisting on the same slopestyle course that snowboarders competed on earlier this week.
The event streamed live at 4:30 a.m. EST and will be replayed on NBC prime time.
Speed skating
The women speed skaters take to the ice in the 1,000-meter race a day after American Shani Davis came up short in his bid to win three gold medals in the event in three consecutive Winter Games. Korean skater Lee Sang-hwa, the winner of the 500-meter race earlier this week, and her teammate Seung Ju Park are major contenders for gold. Heather Richardson, Kelly Gunther, Sugar Todd, and Brittany Bowe will compete for the US.
The event will stream live at 9 a.m. and will be replayed on NBC prime time.
Luge
The final luge competition of the Sochi Games takes place today, with the first-ever team relay. Teams from 12 nations will compete in an event that combines a woman's single luge, a man's single luge, and two men from the doubles luge. The times are combined and the lowest score wins. 
Erin Hamlin, who won the first American medal in an individual luge event on Tuesday (a bronze), will be on the US team, as will Chris Mazdzer, Christian Niccum, and Jayson Terdiman. German lugers have swept the gold medals in all the luge events so far and are the favorites to take home the gold tonight. 
Luge is described by Sochi organizers as "one of the most dangerous Olympic winter sports. It involves sliding at high speeds on single or two-person sleds on a special track of artificially frozen ice. The athlete or athletes starts in a seating position and after pushing off lie down on their back on the sled with their feet stretched out in front of them. The rider steers the sled by moving his or her center of gravity. The winner of the competition is the rider with the fastest time. During a run, the sled can reach speeds of over 140 km/h."
The event will stream live at 11:15 a.m. EST and replay on the NBC afternoon broadcast. 
Men's ice hockey
Men's hockey takes to the ice for the first time in Sochi today. The Russian team is under enormous pressure to bring home the gold in the first Winter Olympics held on Russian soil. Preliminary group play kicks off today with Russia vs. Slovenia, USA vs. Slovakia, and Canada vs. Norway. 
The Russia and US games will stream at 7:30 a.m. EST, and Canada at 12 p.m. EST. NBC Sports Network will replay the US vs. Slovakia at 5 p.m. EST and Canada vs. Norway at 3 p.m. EST.
Men's figure skating          
The individual men's figure skating event gets started today with the short program. Evgeni Plushenko of Russia will look to wow the home crowd again after a rousing performance in the team competition. Three-time world champion Patrick Chan of Canada looks to break the so-called "Canadian curse": No Canadian male world champion has ever won figure-skating gold at the Olympics.
Jeremy Abbott and Jason Brown, whose performance at the national championships in Boston went viral last month, will compete for the US.
The even will stream live at 10 a.m. EST and replay on NBC prime time.
What else is on:
NBC 3 p.m. – 5 p.m. EST: Biathlon (men's 20km individual), luge (team relay)
NBC 8 p.m. EST: Freestyle skiing (men's slopestyle), speed skating (women's 1,000m), figure skating (men's short program), skeleton (women's)
NBC 12:30 a.m. EST: Short track (women's 500m, men's relay), cross country (women's 10km classic)
---