US gymnastics hopeful's steady work impresses Karolyi
Massachusetts resident Aly Raisman hopes to represent the US in gymnastics this summer at the London Olympics. She's made a positive impression on national team coordinator Martha Karolyi.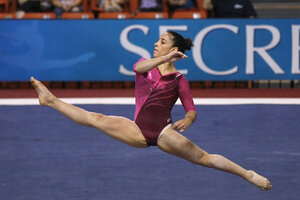 Charles Rex Arbogast/AP
There is one sure way to get Martha Karolyi to smile these days.
Ask her about Aly Raisman.
Raisman may not have Jordyn Wieber's glittering resume or Gabby Douglas' star power. But the 18-year-old from Needham, Mass., is as consistent as a metronome, a quality Karolyi values every bit as much as tough tricks and pretty lines. Particularly in an Olympic year.
"She is just so solid," said Karolyi, the national team coordinator. "She goes out there and doesn't act like she's bothered by anything. She knows she's trained, she knows she's ready and she doesn't put any extra pressure on herself."
The team for the London Games won't be announced until July 1, following the Olympic trials in San Jose, Calif. But Raisman, along with Wieber and Douglas, is considered a near-lock. She finished third at the U.S. gymnastics championships Sunday, and won the titles on both balance beam and floor exercise.
"Last night, before falling asleep, I was a little bit anxious," Raisman said. "I just want the Olympic trials to be here. It's what I've been working for my whole life."
Wieber and Douglas tend to dominate the conversation when it comes to the American women. Wieber is the reigning world champion, and she just won her second U.S. title. Douglas has an uneven bars routine that would make an acrobat sweat — Karolyi's nickname for her is "Flying Squirrel" — and her bright, bubbly personality is similar to that of her old gym mate, Shawn Johnson.
But under the Olympic scoring system, where three gymnasts compete on each event in the finals and all three scores count, no country can win a gold medal without a solid third option. Raisman is better than that, in many respects. She, not Wieber or Douglas, was the only gymnast to win two individual titles Sunday. She was the bronze medalist on floor at last year's world championships, and finished fourth in the all-around. Her vault and routines on balance beam and floor exercise are as difficult as anyone's in the world.
---