New Zealand rower overcomes injury to compete in London and possibly beyond
Mahe Drysdale, a five-time world rowing champion, loves competition. That's why he's considering another Olympic run in 2016, following this summer's London Olympics.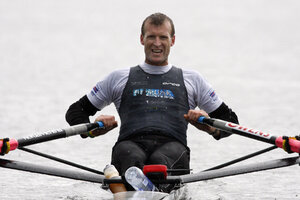 Nigel Marple/REUTERS/File
Mahe Drysdale has developed arthritis in his back and was so dehydrated in Beijing he had to be helped on to the podium, but despite pushing his body to breaking point for years the five-times world rowing champion cannot resist the lure of an Olympic gold medal.
While the New Zealander looks forward to the day he can eschew early morning starts sculling up and down Lake Karapiro and skip hours of road work on the bike, Drysdale's pursuit of gold may not end in London.
He might decide to "thrash" himself for four more years and compete in Rio in 2016, when he will be 37, he told Reuters by telephone before going to Europe for his final preparations.
"It's pretty clear that I will need to have some time out and do some different things and allow my body to have a bit of a rest," he said.
"I'm not ruling out Rio. That's a very inviting prospect. Four years, it'll still be doable in terms of my age, so there is a very strong possibility I will continue.
"But I just have to get through this year and see how it goes and then decide if I still have the passion and whether I want to thrash myself for another four years.
"I will be 37 (in Rio) and it's definitely in the prime of your rowing years."
Despite the physical toll rowing takes on the body, Drysdale said he was coming into his prime at 33.
"My take on it, looking at it around the world, is that you don't get any better after 35 or 36 but you can definitely stay at that level in your late 30s and some of the guys are still competing in their 40s.
"I want to keep my options open and then I can make a really good decision."
While he may take a break from competitive rowing after London he will remain fit mainly due to his competitive nature and the amount of work he has done to dominate the single sculls since 2005.
Having won three successive world titles, and seen off 2000 Olympic champion Rob Waddell in a row-off for the New Zealand seat, he was a raging-hot favorite to take the Olympic title in Beijing but was struck down by illness.
---