Note to Olympics fans: London will be crowded
In light of the large crowds for the Queen's Diamond Jubilee and Olympic torch relay, British Olympic organizers are allocating more funds for public safety and crowd control in London this summer.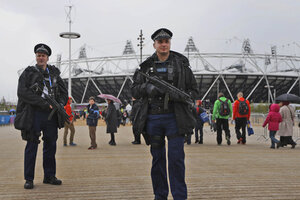 Matt Dunham/AP/File
Britain is pouring more money into crowd-control plans for London during the Olympics, with the government acknowledging Wednesday it had vastly underestimated the number of people likely to take part in the city's heady atmosphere.
Unexpectedly large turnouts have met the Olympic torch relay all over Britain, surprising even the most optimistic cheerleaders for the Summer Games. The celebrations surrounding Queen Elizabeth II's Diamond Jubilee this month also drew millions into the capital — another jamboree of unexpected proportions.
So with hundreds of cultural events taking place at the same time as the Olympics, authorities now accept that more people are likely to come than they had anticipated. Olympics minister Hugh Robertson said Britain was devoting an additional 19 million pounds ($29 million) to crowd control, bringing the total spent on such measures to about 76 million pounds ($117 million).
"We know exactly how many tickets have been sold and roughly how many people should be in London," Robertson said. "(But) absolutely nobody knows how many people are going to turn up."
The money will be used to hire ushers, provide barriers and pedestrian bridges and otherwise keep the public safe. Funds are also going to be devoted to providing security and directions for the "last mile," or the distance between transport hubs and Olympic venues since most people will be using public transportation.
---